Descarca
password:Www.freepcgames.kirod.com
rename the part1 and part3 file after download. just remove the site name from the filename.
1,39 GB
Takuya Sakuragi's life is going well; he's moving to the big city to attend
university. Not being able to afford a place of his own, Takuya has arranged
to move in with his cousin, Takashi, and his wife, Silk. In return, he's
helping out at Takashi's cake shop, where he meets some beautiful women,
employees and customers alike. All these girls seem to have huge crushes on
Takashi, which works out well for Takuya since he resembles his cousin. Before
Takuya can even consider making a move, though, something extraordinary occurs.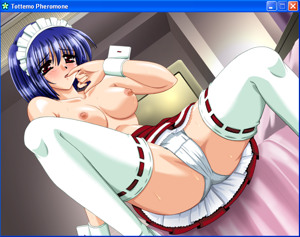 Operating System : Microsoft Windows XP/Me/98/2000
Mouse(or other pointing device)
Minimum Requirements
Recommended Requirements
CPU Pentium II/ 233MHz Pentium II/ 300MHz
Memory 32 MB or higher 64 MB or higher
Display 640 X 480 HighColor 24 bit True Color
CD-ROM 8X or higher 12X or higher
Sound — CD-DA, DirectSound